| View | Add Favorite
August 18, 2006
Pat and Matthew took a fly fishing trip to Colorado last weekend and had a great time. There are a few pictures below. I know fish pictures aren't real exciting, but the men seemed to enjoy them (and I'm sure they'd love to tell you the names of each of the fish and the story behind them if you ask...and even if you don't).
| View | Add Favorite
Don't you love this new slide show feature? I've seen it on other websites and decided to give it a try and I really like it! It's free and can be accessed by clicking on the little "Rock You" icon or by going to http://www86.rockyou.com/. I think you can even use it in an email! Kind of fun!
August 8, 2006
We had a wonderful time with Pat's sister and her family last weekend. Below are a few photos from their visit (most taken at the fair). ENJOY!!
| View | Add Favorite
August 1, 2006
I added a new page called "Everything Adoption" where I'd like to include articles and information I come across occasionally. Check it out. I added a letter from Amy Eldridge from Love Without Boundaries…this is a MUST READ for all adoptive families and those that know them.
I'm also planning to add some links to the "Hope for Orphans" page where visitors can easily find links to organizations with children in urgent need of medical care, etc.
July 25, 2006
Well, the little girl I posted about below got the funding for her heart surgery! Hurray!! I wanted to post the link to some other children who are in urgent need, as well. The first three are urgent (and two happen to be from Brielle's (my new niece) province of Anhui).
Here's the link: http://www.lovewithoutboundaries.com/SponsorMedical.php
The one little guy on the right looks quite blue from need of some good oxygenated blood. If you can help them, please do...even a small gift can make a difference. I'm sorry (kind of:)) that I'm pulling at your heart strings again...just pray about what you can do and don't give out of compulsion. The surgery for the baby girl I posted about below was paid for quickly so if you wanted to help, but didn't get a chance to, there are plenty more opportunities.
Also, I thought I'd add a few photos from our visit with Jenna and Jami. The girls had fun mostly hanging around the house together. Here they are at the science museum and the fountains.
The girls at the science museum
Jenna, Megan, and Jami at the fountains
Miyah didn't love the fountains, but she did love the little ankle-deep "river". There's another photo of her and Levi and her baby doll which she calls "big baby"…I don't know why she calls her that because she isn't big. She's become very attached to her doll, pretty much ever since we came back from meeting her little cousin in TX. Her "baby" is almost always wrapped up in Miyah's blankie. It is so cute to hear her talk about her baby all day long. Besides a little rough play every now and again, she treats her just like a real baby. I hope those big sister skills are kicking in!
And Levi...well, she loves Levi and will often be caught giving him kisses on the mouth (even though she's told not to) and telling us, "Levi just wants some love". She also steps on him and orders him around...it must feel good to have someone to order around, but she really does like him. And he is the best, most gentle dog.
Miyah with "Big Baby" and Levi
Miyah's fascination with letters continues. During the past week she's been asking us what letter something begins with and without answering her we ask her if she knows and most of the time she does know! She even knows the "ch" blend sound. She has those little foam letters for the bath, and without my asking her to, tonight she took out the letters C and H and told me what sound it makes and what words start with "ch". Hmm…it looks like I may need to dig through my curriculum for some fun letter/reading games. Who knows, maybe this is just a stage she's going through. Right now she's amazing me!
Cousins!
All the cousins on Dad's side
It's only July? I know! I'm posting after only a little more than a month. There's really nothing too exciting going on with us, but I do have some fun pictures to share from visits with family.
First, I wanted to share something that was passed on to me….Love Without Boundaries has made an urgent request to raise money for a desperately needed heart surgery for a little six month orphan girl in China. Hopefully she will find a home once she is well. As of now they only need a little more than $4,000 for the surgery. If you are able to donate even a little, please do so. http://www.lovewithoutboundaries.com/SponsorChildDetailMedical.php?ID=97
She happens to be a Guangdong girl like our Miyah.
"I tell you the truth, whatever you did for the least of these,
you did for me."
--Matthew 25:40
Baby girl in China waiting for heart surgery
Oh, and you have to see Love Without Boundaries' Top Ten Photos of 2005...they are precious! Grab a Kleenex. You have to click on "next" in the upper right part of the screen to view all the photos. http://www.lovewithoutboundaries.com/TopTenPhotosHM.php
Also, Pat recently found a wonderful sermon given to Colorado Community Church where Project 1:27 (taken from James 1:27) was begun. It's an amazing ministry whose goal is to adopt every child from Colorado's foster care system. You'll be inspired and challenged! http://www.project127.com/about/sermons.htm
Well, June ended with Megan completing her dance intensive and Matt going to our church's National Youth Conference. We also went to a free Barlow Girl/Stellar Kart concert.
At the Knoxville Zoo with Grandma and Papa
The last week of June, the kids and I (Cindy) headed to my parents' house for a few days. We enjoyed seeing my parents and visited the Knoxville Zoo and Gatlinburg/Pigeon Forge area.
Ready for the Kiddie Parade
On the 4th of July Pat took Miyah to the neighborhood kiddie parade which commenced with a popsicle, fire truck photo op, and a dip in the neighborhood pool...in her 4th outfit. Considering we were decorating Miyah's stroller ten minutes before the parade, we weren't surprised that Miyah didn't win any prizes that day. But, oh does Pat have big plans for next year. During our discussion of next year's "strategy" for the kiddie parade, Matt and Megan began a series of scenarios which included everything from audio/visuals to pyrotechnics to sabotaging the competition. Apparently the neighborhood takes this rather seriously...and now so does Pat. Streamers and flags just don't cut it anymore ladies and gentlemen.
Happy Birthday, America!!
Matt and Megan bought some great fireworks (the kind that make us moms nervous) and we spent a half an hour or so with the neighbors watching their fireworks display and then we watched the city's fireworks from our neighborhood. I headed inside early to finish up our packing, because we were bound for the Badger State the next day...and besides, not all fireworks are the same and this year's weren't the greatest.
Miyah and "Bumpa" in WI 7-06
The next day we left for Pat's parents' in WI. Our visit was very low-key and relaxing. We enjoyed visiting all the little locally-owned burger and pizza places we grew up with and miss. The kids were introduced to the pleasures of Mickey Lu's hamburgers and Brother's Three Pizza. Nothing much changes up there and every visit is a little nostalgic. We also had a little family reunion of sorts with Pat's brother and sister and their families at Bay Beach in Green Bay. The kids had a great time visiting with their cousins. We love to see all the nieces and nephews and they're all growing up so quickly.
Us with Pat's brother and sister and kids
Crazy Boys!
Liam and Brandon
(B) Pat and his brother, Dave
(F) Megan with cousins Kayla and Marti
Instead of flying back from WI with us, Megan spent a week with her very best friends, Jami and Jenna, in IL. We missed having Megan home…she's the goofy one in the house and it seemed very quiet without her. Miyah would often tell us she missed Megan. Last night I picked the girls up from the airport and now Jenna and Jami will be staying with us for the week. I love that the girls have kept up their long distance friendship. They really have the best time together.
The next time I write Matt should have his driver's license! We finally signed him up for a driver's course that trains them in a week…scary, I know. He's been driving with us quite a bit already so he does have a bit of experience behind the wheel. We bought Driver's Ed in a Box, but just didn't have time for the program. I need Matt to drive himself to school this year or Tuesdays and Thursdays were going to be tricky with Megan's classes being on the other side of town….not that moms can't be two places at once.
In case you haven't seen enough pictures, here are a few of Miyah and her friends at playgroup.
Playgroup pool party 6-06
(This is a little note for friends and family) We'll be making a 100 Good Wishes Quilt for MeiLin just like we did for Miyah. We would love it if you could send us some fabric for her quilt. If you don't remember what you need to do, click here for the quilt info. We'll be sending out an email to all our friends and family and you can feel free to email with any questions.
That's probably more than enough for now. It's hard to imagine, but the next time I post we'll be back to school already. I hope you all enjoy the rest of your summer!
Love from all of us
~~~~~~~~~~~~~~~~~~~~~~~~~~~~~~~~~~~~~~~~
Our New Cousin, Brielle, Is Home!!
Brant, Brielle, and Brittany
June 14, 2006
Happy (almost) summer to you all! I know it's certainly felt like summer lately with the heat and slightly slower pace of life.
We had a wonderful Easter at my parent's house in East TN. My oldest sister, Tammy, and her family were there. It was great to see them after almost 1 1/2 years. They live in WI and we don't always get up there to see them. On Saturday we went to Dollywood where the kids had a good time. On Easter Sunday my parent's church had a picnic and egg hunt for the kids.
Chad, Andrew, Matt, Miyah, Alyssa, and Pat
My sister's husband and kids
Miyah and Megan with cousin Alyssa
Easter Picnic
Matt with his cousin, Andrew
Easter Egg Hunt with Grandma
In April, Pat took a week off of work just to get some things done around the house and yard. Megan wanted to trade rooms with Miyah, so we spent a week moving them around and then painting and redecorating. After much contemplation, Megan's room ended up a shade of pink that might be considered radioactive….if a color can be radioactive. When the door is open the pink glows out into the hallway and I was concerned about whether she'd be able to sleep in there it's so loud! It's actually quite fun and not that bad because there are two hues of pink in the wall that soften it a tad. I'll have to post a picture once we get things up on the wall. We are waiting for a carpenter to come and put a built-in bookshelf and desk in there as well as some built-ins in the rec room. Miyah's room is much the same as when it was Megan's except a little less "stuff" everywhere and her crib was put in there for "baby sister".
Speaking of baby sisters….still no idea how long the wait will be. Every month the wait increases and I have to remind myself that every month actually brings us closer to our little girl because it can feel like we're going backwards instead of moving forward as the wait increases. It's now at 12 months from log-in-date (paperwork in China) to referral (info on baby) and two more months to travel to China (14 months total - not including the months of paperwork prior to the wait). I know this will all happen in God's timing and we're so busy these days that (so far) the wait is passing without us really noticing it.
Well, I think we've finally come to an agreement on the name for little sister….MeiLin (pronounced "May' Lynn" but spelled the Chinese way)! I decided to let Pat name her since he's felt so strongly about the name from when we first decided to adopt again. I haven't really even told him that yet…oops...maybe it'll be a father's day surprise....shh, don't tell him you knew first.
Hmm…what else have we been up to….At the end of May the girls and I flew to San Antonio with my mother to see our new niece/cousin. Brielle finally came home from China and we were so glad we were able to be at the airport to meet her. She is so adorable and sweet! She was feeling a bit under the weather when she got home and it turned out to be bronchitis and a double ear infection. It wasn't long before Miyah had the same thing (NOT fun!). The girls shared a bit of saliva so it was inevitable (grandma let Miyah feed Brielle the cream from her Oreo and Miyah's finger went right from Brielle's mouth to her own). Anyway, everyone's feeling better now and here are some pictures from our trip to San Antonio.
Megan and Miyah waiting to meet Brielle
San Antonio Airport
Big and Little Sisters
Brant, Brittany, Brielle, Megan, Grandma, Miyah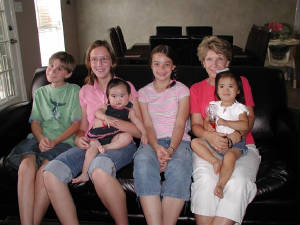 Miyah at my sister's pool
My sister has a beautiful house, but the best part is the pool! It's amazing - really! Megan had such a good time with her cousins and loved swimming in the pool so much that she didn't want to leave.
Speaking of Megan, she's been busy finishing up the school year and doing some babysitting. She's a mother's helper two afternoons a week for a friend and babysits pretty regularly for another friend/neighbor. She's also taken up the job of mowing our lawn as Matt's moved on to mowing other lawns. She had her big ballet recital a couple of weeks ago and did so well. She's really improved this year and had a great teacher who choreographed a beautiful dance. She had her piano recital a few weeks ago, too and played beautifully. This week and next she's dancing 5.5 hours each day. I'm so glad to see that she's sticking with her ballet and piano. She really enjoys them both.
Megan's Ballet 3 Class after their performance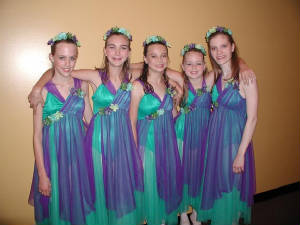 Megan and Hannah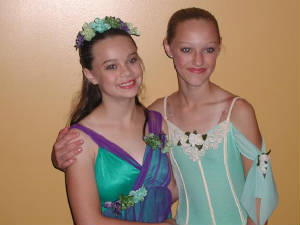 Matthew finished school a little over a week ago and is enjoying sleeping in right now. A few weeks ago he finished and presented his forty hour project. We realized that we hadn't taken any pictures of his castle until he was demolishing it. So, we took some photos of the demolition in action…I'm sure this is the way he'd like to remember it most. He got more satisfaction this way anyway. He's continued to do very well again this semester and was among only a couple of 9th grade students to make it into the Advanced Composition class next year. This made me laugh because as Matt's teacher for many, many years I know how much he hated to write for me. I often wondered what he was going to do when he had to write papers in school because he acted as though he just couldn't unless I walked him through it step-by-step. I'd like to make something clear to all the homeschoolers reading this…we hadn't done a great deal of structured writing at home. I have to believe that all the reading of great books helped him develop an "ear" for good writing more than any writing curriculum could have. I'm very proud of him because he's worked so hard this first year back at school. He puts a lot of pressure on himself and instead of us pressuring him to get good grades we have to tell him to relax and enjoy school (ha!). Matt has also started training with the football team this spring. I'm glad he'll have practice throughout the summer to keep him busy and active. He's also looking for a job and hoping to get his license before the end of the summer. It's hard to believe he's 16!! Now if we can just find the time to do some driver's ed.
Matt's 16th birthday present
Miyah has been busy being two these days. She's always talking and finally in complete sentences. It's fun to hear her thoughts about things. She's hilarious sometimes. She's shown a greater interest in her baby dolls lately and it's fun to hear her talk to her baby. Apparently her baby is having a problem with hitting people and Miyah makes sure she gets a time out with a stern, "No hitting people, baby!". Then she makes the baby sign "sorry" by rubbing the baby's hand across its chest and she gives her a hug and tells her she forgives her and loves her. She went for a cleaning at the dentist yesterday and sat so nicely. While she was sitting in the chair she saw the lead vest they put over you for x-rays and said, "That's a big bib, Mommy!". And she imagines all sorts of things...sharks in the toilet, fish or lions in her mouth and she'll often notice that things look like other things. A dallop of liquid soap looks like a guitar (and it really does), etc. The potty training has gone very well and she rarely has an accident. I'm still amazed that she trained so quickly. She also loves to help around the house and is always washing dishes, watering plants, "folding" clothes, etc. She loves to be independent but still wants Mommy nearby. She's also been talking a lot about her baby sister (in China) the last couple of days. I think she finally gets it, but now I worry that we've talked about it too soon since the wait is so long. She talks a lot about Meilin's crib and that Meilin is going to cry and Miyah's going to tell her "It's okay, go back to sleep". It's fun to hear her talk about her, but I think it's making me more anxious.

A few other accomplishments of Miyah's last month were that she manage to sitck a coffee bean WAY up her nose! Way, way up there! I thought for sure we'd have to take her to the doctor. Well, by plugging the other nostril and asking her to blow out real hard several times, that bean came shooting out. She has a thing with smells and has been asking to smell my coffee every morning, which usually involves her walking around with a bean in her hand. It seems she was trying to get a really good sniff of that bean. Then, the other day she surprised us while doing an alphabet puzzle. She would show us a letter and tell us the sound it makes! Megan and I just looked at each other completely puzzled! We haven't been teaching her the sounds of her letters except a little here and there while playing with letters or reading a book about letters and sounds. She even knows the two sounds some letters make. I think it's from the Leap Frog toy that's on our refridgerator, but she rarely even plays with that. (warning ~ I'm about to brag, so if you usually put your finger down your throat and make gagging noises when people brag about their kids, you may want to skip the rest of this paragraph) She's only 2 1/2 and she recognizes all her letters, letter sounds, numbers, colors, shapes, and even kind of writes some simple letters (like "H"). What's left for preschool? Gosh, I guess I should feel pressured to actually encourage some of her abilities...she should have been the first child if she really needed attention like that (just kidding). I'm just amazed at her memory. She takes after me (Hah - NOT!).

Pat's plugging away at work, as usual. He seems to be coming out of an extra busy and stressful time and we're all so glad he's been able to relax more in the evenings. He comes home to a lot of work in his office most nights, but he's taking some time to study for the GMAT. He's hoping to start on his MBA this fall. He's also planted a vegetable garden again this year. We had some broccoli and peas from our garden in our stir-fry tonight (mmm). It's nice to know that if the manager/business thing doesn't work out, we can always become farmers!
I almost forgot to mention that we had a wonderful visit with my best friend, Michelle, and her girls last month. I always love it when they come to visit. We all have such a great time, even if we're doing nothing. They were here right before we went to San Antonio and we had a nice relaxing week together while Pat was out of town. The girls did one of their famous plays for us (two actually). I just love their little plays and am beginning to wonder if this might be the last year they'll be putting on a play for us. They're getting so grown up. I remember putting on programs with friends and having such a good time. They're some of my favorite childhood memories.
Michelle and Miyah
Miyah LOVES Michelle and I know the feelings mutual.
The kids after their play
Pat and kids at Universal Studios
Miyah and Nana at Disney ~ 3/06
March 29, 2006
Well, we've had a wonderfully busy year so far. As you may have read on the homepage, we finished our paperwork for another China adoption and reached the momentous milestone of receiving a log-in-date (LID) of March 7, 2006, which is the day our papers were officially received in China. In China, all adoption paperwork is given a LID which puts it in queue (chronologically) for processing. There are two other families in our area with the same LID with our agency, so we'll have travel buddies. One is a single woman waiting for her first child and the other is a couple with a Chinese daughter Miyah's age. Miyah and Elizabeth are in playgroup together and are great friends. I'm so excited that they'll get to experience a homeland trip to China together. Below is the photo of our LID celebration at PF Changs on 3/14.
Log-In-Date Celebration at PF Changs!!!
(L)Our family, (R)Anne, Jenny, Don, and Elizabeth
Completed Dossier (adoption paperwork)
The adoption process in China has become longer and longer by the month. When we waited for Miyah, it was less than six months from LID to referral…right now the wait is ten months and growing! There's never a guarantee that things will remain the same or change drastically, but if they change, I hope it's for the better. Hopefully we'll have a name picked out before we get the referral. Any "M" name suggestions would be welcome. As you've noticed, we're stuck on the "M" names (Matthew, Megan, Miyah). We are thinking about Mei Lin (Pat's fav), Madelin (Cindy's pick), or we could stick with the name Matthew so affectionately calls her, Mafavre…as in Brett Favre (it's a joke, really). What's creepy is that the kids have joked about the name Mafavre for so long that we've almost (a teeny bit of almost) grown accustom to it…we even have my sister's family referring to her as Mafavre. Poor child!
Speaking of referrals and my sister…My sister, Tracy, and her family received their referral on March 2!! Brielle Ai Mei is beautiful and we can't wait to meet her after her homecoming in May! Her picture is below. Brielle is from the Anhui province and will be one in July (very young). We already love her dearly and feel so blessed to have a Chinese niece/cousin. I'll post more pictures when she's home. We can't wait!!
My new niece, Brielle Ai Mei
Look at those gorgeous eyes!
If we back up a bit, I'll post some photos from Chinese New Year this past January. We had one big party weekend with back-to-back parties…three total for the weekend. We celebrated with our playgroup, with a Chinese friend who hosted an authentic CNY party, and with our agency at a Chinese restaurant.
Miyah at a CNY party
1/06
Luke, Amber, and girls
3/06
Now we'll fast forward to March again…wow, it's been busy around here. We've had several different sets of company in the last two weeks. My niece, Amber, and her husband came for a visit. It was Miyah's first time to meet Amber and Luke. She wasn't sure about Luke (or just playing coy), but she loved Amber.
A few days after they Amber and Luke left, Pat's parents came and we all headed to Orlando for spring break. The weather in Orlando was beautiful and we enjoyed six days of six different theme parks. The kids had a lot of fun. It was our second trip to Orlando as a family, but the first time we've visited Disney and Universal. I have to admit that I was reluctant to go to Disney because I've never been into the Disney mania thing…well, I was pleasantly surprised and we had a wonderful week. Pat and Megan rode every horrifying roller coaster and Matt and I saw the 3D movies that Megan hated. Miyah loved just being out amongst all the people. We'd get to a park and she'd shout, "People!". She was so excited to see the castle and meet all the characters. We got pictures with most of the Disney characters and several at Universal.
Waiting for the parade
3/06
Nana, Bumpa with kids at Epcot (Nemo!)
Miyah loved getting her picture taken with all the characters....
Shrek and Miyah at Universal
My sister, Michele, and her kids Cody and Amber (same Amber) were there to welcome us when we got home from Orlando. The next day Pat's parents left and my parents came to go to the Switchfoot concert with us…yes, I did say my sixty-something parents went to a Switchfoot concert…earplugs in hand. Amber, Michele, Cody, Matthew, and Megan stood in line for 8 hours so they could be up close. We were as close as it gets! The concert was great and it was nice to see my sister and nephew again. Matthew and Cody are frighteningly alike! Same strange, but very funny sense of humor. How is it that teenage boys can "converse" for hours reciting movie lines and coming up with random scenarios?
Whoohoo!!! Big news at the Konyn house this week! Miyah is potty trained – well it may be too early to say that definitively!! As Megan was dressing her on Tuesday, Miyah told her she wanted to wear panties. And, like most everything else in Miyah's world, once she sets her mind about something, it's done (and M&M rewards helped in this case, too). She had a few accidents (okay, five) within the first few hours, and then completely dry for two days. About two months ago she started with the "me-self do it" mantra. So, most everything about pottying (and EVERYTHING else) is done independently. She's become so excited about the M&M reward, that she goes potty every five minutes. We'll let you know how the pottying goes after we cut her off from the candy J. She tries to say M&Ms but (appropriately enough) calls them "ummayums". She has a whole list of people (and things) that are proud of her for going on the potty.. She says, "Daddy proud of me, mommy proud of me, Matt proud of me, Megan…..", then continues through grandparents and cousins with a few things like "blankie proud of me" mixed in. The "proud of you" concept may be difficult…but then again if she can pray for God to bless her blankie, why can't her blankie be proud of her?
Other big news: Matt got his learner's permit, but hasn't had much practice on the road yet. He's taken his page off of the website because he said it was stupid or dumb or something. I'll have to get him to make a new page of Matt stuff. He finished his thesis paper on the impact knights had on medieval society and is now working on his 40 hour project. He's chosen to build a replica of a castle.
Which makes me chuckle when I remember our trip to Home Depot to get supplies to build this castle, just Matt, Megan, and me. We were looking to build an authentic-looking castle and came up with a bag of rocks, liquid nails, grout, and a large piece of ply wood to build it on. If Home Depot has security cameras in the parking lot, you may see us on Funniest Home Videos. I had driven the car instead of the van and of course no matter which way we turned that plywood, it wouldn't fit in the car. A nice employee offered to keep it for us (ew..it's still there!) until we could pick it up with a larger vehicle. Then, Matt and I lifted the bag of rocks out of the cart and proceeded towards the trunk…slam…Megan closes the trunk before we get there, as the cart rolls away and Matt and I, holding either end of the heavy bag, attempt to chase the cart just so we have a place to put the darn bag down. Three stooges…ha ha….I guess you'd have to be there! We had a good laugh. Anyway, we'll post a picture of Matt's project when/if he's finished.
We applied for Megan to attend a home school tutorial next year. It meets one day a week with coursework to complete the other four days and turn in. We'll see which classes she gets into. She's looking forward to a day away from home, but wasn't excited about going to school full time yet. We're planning to take the kids to China with us, so this kind of schedule will make it easier for her to miss. We're praying that it won't be too difficult for Matt to miss two weeks of classes when we go or he may have to stay home L.
Well, I've said more than enough…must be the coffee I've started drinking. Pat's mom gave us an awesome coffeemaker that even I can make a good cup of coffee in and I'm like the dad in "Kicking and Screaming"- you'd have to see it.. Caffeine is great!
December 18, 2005
Merry Christmas! We hope you all are enjoying the holidays. We had a great time last week when my mother came for Megan's piano recital and baked all kinds of Christmas goodies with us. We also stayed up until 4 AM one morning stripping wallpaper off of my bathroom walls (not planned!). Needless to say, we were exhausted for our cookie baking the next day, but the bathroom looks better already.
Matt has completed his first semester of high school and is doing very well. Midterms were easier than he expected and he managed all A's in all his classes! We are very proud of him for all the hard work he's put in this semester. He's enjoying a break for the next two weeks...we all are actually. He'll be studying for his driver's permit and hopes to go in and take his test next week and have a temp license! Scary! I'm anxious for him to drive to lighten my load a bit. I feel like a chauffeur most days.
Megan has been busy with her usual activities and has been a great help to me around the house. She stayed up with my mom and me stripping paper and baked cookies with us or helped watch Miyah. She's turning into such a wonderful young lady. She played two pieces at her piano recital and did very well.
Miyah has stayed in the church nursery for three weeks in a row now! I can hardly believe it! I can now take notes and actually listen to a sermon, something that's been difficult this last year. She actually looks forward to going. She says, "play", "eat snacks", and "bubbles" when we talk about the nursery. I wasn't sure the day would come, but it has! Oh my, the other major development is that Miyah has learned ALL her letters! You can ask her to find a particular letter or point to a letter and ask her what it is and she knows without hesitation. She even knows some of the letter sounds! Okay, so I think she's brilliant, but since I have no genetics involved, it's easier for me to brag. We also just hosted her playgroup Christmas party this past week. Nine little Chinese girls came all dressed in their Christmas best. The girls exchanged gifts, played, and ate lunch. We had a wonderful time. This month at Chinese school she learned how to say Merry Christmas in Chinese. It is "Sheng Dan Kuai Le" which literally means "Happy Holy Birth". She still loves her Dance and Learn Chinese video and dances right along with the girls, often a step ahead of the dancers. She is just so sweet and fun!
Last month we spent Thanksgiving with some friends at home. It was a nice quiet day. Miyah had fun with the Schimming's little boy, Caleb. They wore Indian headresses and danced around the house.
Thanksgiving Day
Miyah and Caleb 11-05
Kids at the Pumpkin Patch 10-05
November 7, 2005 Happy Forever Family Day!!
A year ago today we became a "new" family. "New" because Miyah has changed our lives so much in so many incredible ways. It's easy to forget how little people do that! Over this past year we've watched as her little personality has emerged. She is such a sweet and spirited little girl. She's an absolute blessing to our family! She has changed so much in the last month. Not only did she grow a whole inch in September, but she's also becoming much more outgoing and less clingy (and whiny). Now I understand why many people say that it really takes the children a year to "adjust". We always felt like she had adjusted well right off, but she really does seem to have become happier and more "herself" as time has gone by. She's a little spitfire!
We'll celebrate Family Day by going out to lunch at PF Changs and giving Miyah a gift we brought back from China. We'll probably watch our China and "Gotcha" video in the evening and read through Miyah's lifebook to remember the miracle that made us a family.
~~~~~~~~~~~~~~~~~~~~~~~~~~~
It's been several months since we've updated our website, but I won't even try to catch you all up on what's been going on in our boring, but hectic lives. Each of the kids have updated their pages as well including new pictures.
Our biggest news is that we started the paperwork for our second adoption! We just completed our homestudy and will get our FBI fingerprinting next Tuesday. All the paperwork is so much easier this time. We have pretty much everything ready to go, but we have to wait on CIS (US Citizenship and Immigration Services). The CIS in our state is slow so we expect to wait for a few months before all our paperwork can go to China.
Cindy and Megan flew to Chicago to meet up with their best friends for Megan's birthday last month. The trip was great and is highlighted on Megan's page if you'd like to see pictures.
Looks like another China adoption!
June 12, 2005
School is out for the summer! Well, mostly. We do have some reading to do for History. We always fizzle out at the end of the year and end up reading through the summer evenings.
My best friend from Illinois and her two girls came to visit last month and we had a great time...as always. The girls put on a play each time they come and it's always so much fun to watch! This time they performed the Josefina play. They had worked on the play for a little more than a month by practicing over the phone several times a week. They take their acting very seriously...well kind of seriously, there was a little nervous giggling in the first act.
Michelle and I spent most of our time planning for the following school year. This is an annual tradition. We brainstorm and come up with some great ideas, only to forget them over the summer...only thank God Michelle has a much better memory than I do and reminds me of all the things I say I'm going to do. Next year we will be doing Sonlight Grade 5 History, ABeka Arith. 6, ABeka Language 5, and other various curricula for Megan's 5th grade year. We're excited about the Sonlight study as it is of all the non-Western cultures...something we are obviously all interested in having a daughter from Asia and just having traveled there.
Matthew is going to the Christian Classical school in town and has some summer reading to do. He has to read "The Innocence of Father Brown" by G.K. Chesterton and write an essay on it. He loves mysteries and Chesterton is similar to Doyle, but Matt actually seemed to like Chesterton's Father Brown over Sherlock Holmes. Next he needs to read Macbeth as they will be having a test on it the first day of literature class. Nothing says "welcome back to school" like an exam!
Matt has been babysitting and mowing lawns the last several months and has saved enough money for his dream laptop! It was a glorious day when that laptop he'd been talking about for months was delivered to our door. Now he's all set for school next year. During Humanities lectures the kids take notes on their laptops (or that's what they claim).
My sister, Michele, and her family came to visit on their way to and from Florida last week. It was so good to see them. We hadn't seen them since their daughter's wedding a year ago. We spent a good part of the time at the pool since it was hot. The kids enjoyed spending time with their cousin Cody, and Miyah met them all for the first time! Miyah absolutely LOVED Cody and I think the feeling was mutual. Cody followed her around and played with her most of their visit.
We found out that my sister, Tracy, has gotten her DTC (dossier to China) and LID!! YEAH! We are so excited for them and can't wait until they get their referral for little Brielle. They should get their referral around November or December. Miyah will just love having a Chinese cousin. Now we just have to work on moving them closer to us so the girls can grow up together. My sister and her kids and my parents are coming this week for a short visit and we can't wait to see them.
Megan had a piano recital a couple of weeks ago and she played beautifully. She still really enjoys piano and loves her new teacher, Miss Kitty, who lives around the block. She also had a ballet recital last week and their dance was great. The girls had beautiful costumes. I'll try and post some pictures on Megan's page (if she lets me). It was like pulling teeth for her to let me put some makeup on her...I hope that lasts a little longer.
Matt and Pat went to a Nascar race this weekend. Pat's company had box tickets, but the race was rained out so they had to go back the next day.
I haven't said much about Miyah, but I'll post some updates on her page.
Take care all!
Cindy
May 7, 2005
We're winding down our school year and are anxious for summer to be here. We are finishing up our study of American History and aren't sure that our plan to visit Washington, DC at the completion of our study is going to happen. We have a busy summer ahead of us, so we're not planning on that trip right now.
Matthew participated in the Teen Pact four-day program last month and Megan in the one-day program. They learned about state government and legislation and met with some state senators, representatives, and lobbyists. Both of them really enjoyed it and hope to participate next year. We highly recommend the program and I believe there are programs in most of the 50 states. For information go to http://www.teenpact.com/
Yesterday the kids participated in field day with our home school group. Matthew and Megan each received ribbons for first through third place in several categories. Matthew won first in the 50 yard dash and the punt, pass, and throw competition as well as a couple of thirds in a relay and gunny sack race. Megan won first in the three-legged race, and third in hula hoop, jump rope, and gunny sack. But best of all, they had tons of fun. Miyah played in the sandbox for most of the day.
We took a vacation to Destin, FL last month and had a great time. We found out that hotel vacations are just not fun with a family of five, so we'll need to rent something a little more spacious next vacation. We mostly sat on the beach, and the highlight of the trip was when we saw a shark very (and I mean very) near the beach at dusk! Don't go in the water after 5 PM is what we learned.
Matthew has been busy mowing lawns and babysitting lately. He is saving money to buy a laptop. He was accepted to the school he applied to and would like a laptop. He's almost there...Matthew will be going to a private Christian Classical school and he is so excited to go.
We had wonderful visits with both Cindy's parents and Pat's parents last month as well as with the Brynolf family. We were able to do some sight seeing with our families and took a trip to my parent's new home in east TN.
I am working on the remake of our trip videos that we lost when our computer crashed and I will try to link them to this site when I get a chance. Those with children from Dianbai who would like a copy of the Dianbai video, please email me privately and I would be glad to send one.
Come back and visit us soon!