HI My name is Megan! I like to dance ballet, play the piano, play basketball, and do crafts. I also LOVE to swim, sew, and read.
American Girl Place, Chicago
What's New
Well in October mom and I went to Chicago. We met my friends Jenna, Jami and their mom. We had fun. We went to American Girl and watched the show. We also went to eat in the cafe and had our pictures taken in the studio. We all had lots of fun there. We spent a whole day there!
The next day we went on a quadcycle. It's a bike that can hold six people. It was lots of fun....but we had to cross the street with a lot of cars. It was a little scary but it was fun. Then we went to Navy Pier and went on the Ferris Wheel. Later that day we went to the Children's museum.
Quadcycle on Lakeshore bikepath, Chicago
The I have started ballet again. I have a new teacher this year. Her name is Miss Becky. She is nice and she goes to my church. She also works us VERY hard. I have started Prepointe. It is fun. I am hoping that I will get my pointe shoes soon. It will be really fun.
Piano is good. I am going to have my Christmas recital soon and play 'Angels We Have Heard on High' and 'Promenade'.
This year we are learning about non-Western cultures. So far we have learned about the Pacific Islands, Australia, Antarctica, Korea, Japan, and now China. I have loved the reading I've had to do so far (except for a few of the books). Right now I'm reading about Hudson Taylor and a book called "Young Fu of the Upper Yangtze". In Science I am learning about the human body. It's very interesting.

Hello Everyone! Sorry I haven't done anything to my page in awile. Well anyway I was just going to tell everyone that I have a blog now. You can visit it at http://wwwchinagirl.blogspot.com/ . I hope you enjoy!
I had my ballet recital on June 4th. I had a blast! It was so fun I couldn't help but smile during the performance!

My dance went good. No one in my class messed up and neither did I.
Me after my ballet recital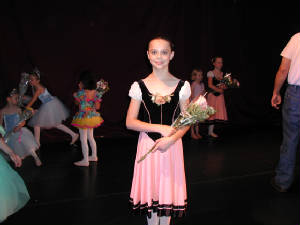 6-05
This is me and my friends after our Kirsten play. Every year when my friends Jenna and Jami come down to visit us we perform a play.

We all had fun. We all messed up a little bit but we did a good job! It was the first play that we memorized all the lines!
Kirsten play with friends...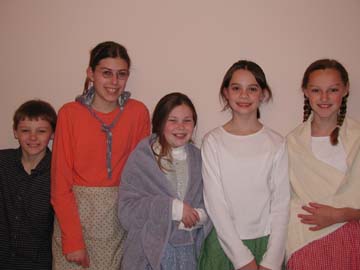 Sullivan, Jenna, Jami, Me, and Hannah